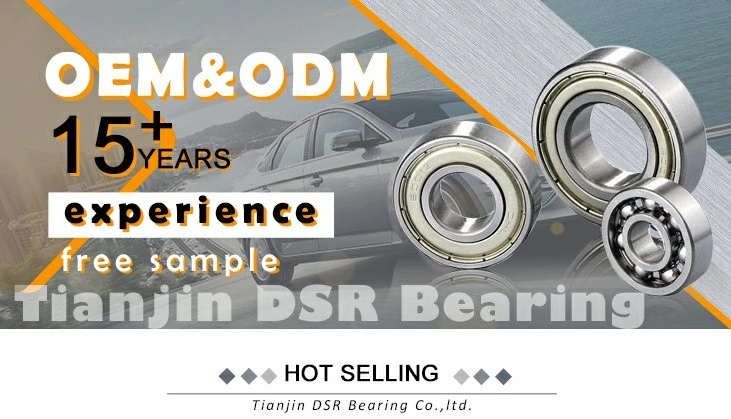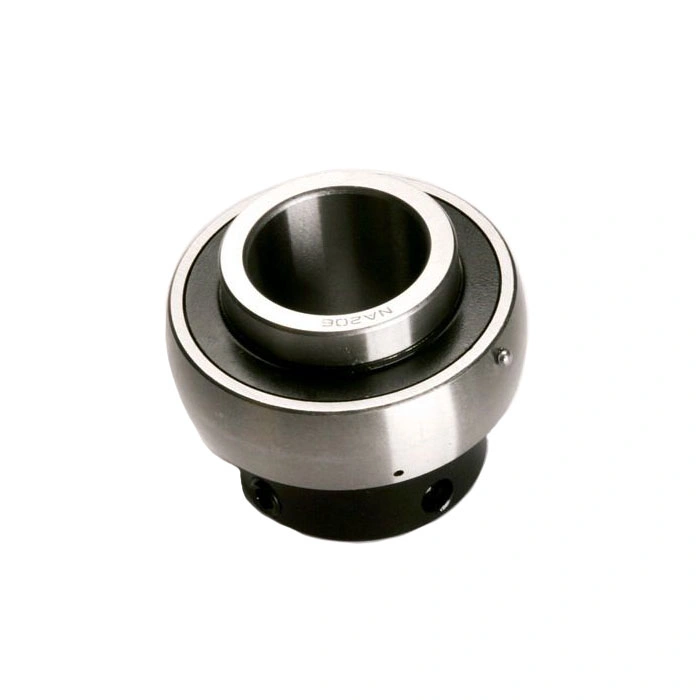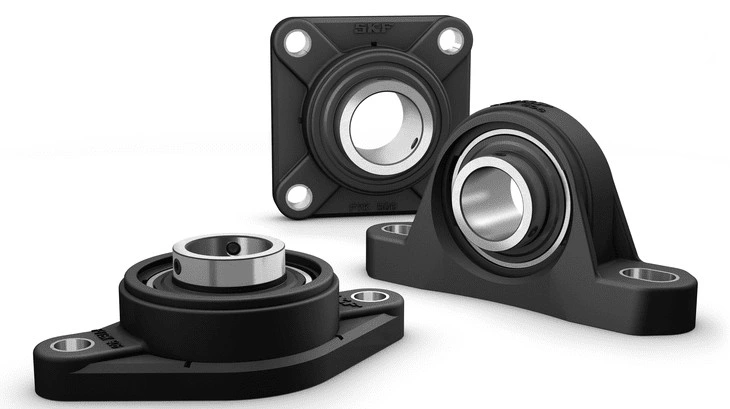 UC series insert bearing specification:

Bearing No.

Shaft Dia

Boundary dimensions(mm)

Basic load ratings

in.

mm

D

Bi

Be

n

m

G

ds

C

Co

UC201

12

47

31

16

12.7

18.3

5

M6x1.0

12890

6490

UC202

15

47

31

16

12.7

18.3

5

M6x1.0

12890

6490

UC203

17

47

31

16

12.7

18.3

5

M6x1.0

12890

6490

UC204

20

47

31

16

12.7

18.3

5

M6x1.0

12890

6490

UC205

25

52

34

17

14.3

19.7

5.5

M6x1.0

14000

7560

UC206

1-1\16

30

62

38.1

19

15.9

22.2

6

M6x1.0

19510

11160

UC207

35

72

42.9

20

17.5

25.4

6.5

M8x1.0

25640

15330

UC208

40

80

49.2

21

19

30.2

8

M8x1.0

28890

17110

UC209

45

85

49.2

22

19

30.2

8

M8x1.0

32670

18220

UC210

50

90

51.6

24

19

32.6

9

M10x1.25

35110

20840

UC211

55

100

55.6

25

22.2

33.4

9

M10x1.25

43330

26000

UC212

60

110

65.1

27

25.4

39.7

10.5

M10x1.25

51110

36000

UC213

65

120

65.1

28

25.4

39.7

12

M10x1.25

56890

39560

UC214

70

125

74.6

30

30.2

44.4

12

M12x1.25

62220

44000

UC215

75

130

77.8

30

33.3

44.5

12

M12x1.25

66220

48890
Pillow Block Bearing List

UC201

UCP201

UCF201

UCFL201

UCT201

UCFC201

UCPA201

UC202

UCP202

UCF202

UCFL202

UCT202

UCFC202

UCPA202

UC203

UCP203

UCF203

UCFL203

UCT203

UCFC203

UCPA203

UC204

UCP204

UCF204

UCFL204

UCT204

UCFC204

UCPA204

UC205

UCP205

UCF205

UCFL205

UCT205

UCFC205

UCPA205

UC206

UCP206

UCF206

UCFL206

UCT206

UCFC206

UCPA206

UC207

UCP207

UCF207

UCFL207

UCT207

UCFC207

UCPA207

UC208

UCP208

UCF208

UCFL208

UCT208

UCFC208

UCPA208

UC209

UCP209

UCF209

UCFL209

UCT209

UCFC209

UCPA209

UC210

UCP210

UCF210

UCFL210

UCT210

UCFC210

UCPA210

UC211

UCP211

UCF211

UCFL211

UCT211

UCFC211

UCPA211

UC212

UCP212

UCF212

UCFL212

UCT212

UCFC212

UCPA212

UC213

UCP213

UCF213

UCFL213

UCT213

UCFC213

UC214

UCP214

UCF214

UCFL214

UCT214

UCFC214

UC215

UCP215

UCF215

UCFL215

UCT215

UCFC215

UC216

UCP216

UCF216

UCFL216

UCT216

UCFC216

UC217

UCP217

UCF217

UCFL217

UCT217

UCFC217

UC218

UCP218

UCF218

UCFL218

UCT218

UCFC218

UC305

UCP305

SA201

SB201

UK205

NA204

UKP205

UC306

UCP306

SA202

SB202

UK206

NA205

UKP206

UC307

UCP307

SA203

SB203

UK207

NA206

UKP207

UC308

UCP308

SA204

SB204

UK208

NA207

UKP208

UC309

UCP309

SA205

SB205

UK209

NA208

UKP209

UC310

UCP310

SA206

SB206

UK210

NA209

UKP210

UC311

UCP311

SA207

SB207

UK211

NA210

UKP211

UC312

UCP312

SA208

SB208

UK212

UKP212

UC313

UCP313

SA209

SB209

UK213

UKP213

UC314

UCP314

SA210

SB210

UK215

UKP215

UC315

UCP315

UK216

UKP216

UC316

UCP316

UK217

UKP217

UC317

UK218

UKP218
DESCRIPTION OF THE BEARING
The single row deep groove ball bearing are simple in design, non-separable, suitable for high and even very high speeds and are robust in operation, requiring little maintenance.
Deep raceway grooves and the balls enable deep groove ball bearings to accommodate axial loads in both directions, in addition to radial loads, even at high speeds.
Deep-groove bearings have higher load ratings for their size than shallow-groove, but are also less tolerant of misalignment of the inner and outer races.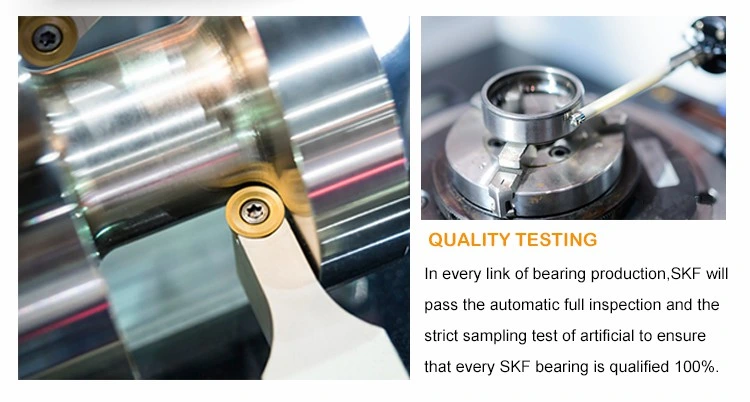 ABOUT US
Tianjin DSR Bearing Co.,ltd.Is a professional manufacturer of bearings, all kinds of rollers , with
more than 15 years experience.Our factory is in Shandong and our export office is in Tianjin.We have established long-term cooperative relations with customers in Canada, Mexico,the United States and other countries and regions.So we also hope to cooperate with you! We believe that our stable quality and competitive price will help you get more market and better development!
After years of development, our company has formed a setof effective and cooperative management models and our business philosophy. "Consider More From the Customer's Aspect" is our service principle. As a qualified domestic & international trading company, our products are comprehen-sive and abundant.They are widely used in metallurgy, mining, petroleum, machinery, electric power, paper, grass and other fields. We sincerely hope that there will be more customers from different places to cooperate with our comp-any, and we will provide top service.
We are very confident in our products, and we are sure that we can earn your trust!